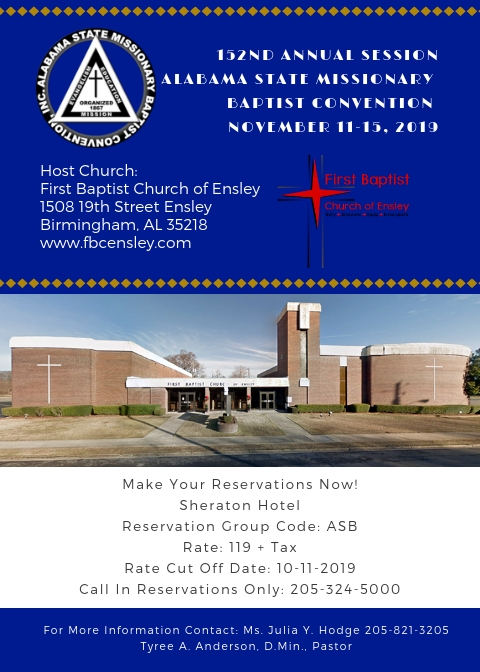 Alabama Baptist State Convention
November 11, 2019

-

November 15, 2019
Greetings Alabama State Baptists:
We are tremendously excited to host the 152'd Session of the Alabama State Baptist Convention, November 11-15, 2019. This gathering of influential Black Baptists from across the state will be held at the First Baptist Church of Ensley, 1508 19th Street Ensley, Birmingham, AL 35278, in the Historic Tuxedo Junction community. We are ecstatic to host our Convention and want to welcome YOU-our fellow laborers in Christ-to the heart of the
southeast of the United States.
This year is special as we embrace our new leadership team who has fearlessly taken the helm to guide us in the direction of the Holy Spirit. Dr. Melvin Owens is our new President, and this is our first state meeting under his leadership. Since 1866, God has guided us to have a greater impact on the lives of the people we encounter and to expand the Kingdom of God. In
1866 as our ancestors lived in freedom following the bonds of chattel slavery our great convention was started! For 152 years we have served Black Baptists in the State of Alabama, where we preach Jesus and the gospel of liberation!